You can no longer hear the bridge rattle when a vehicle crosses it.  Not like the time a dump truck hauling gravel to the cabin road had one of its wheels break through the deck.  Every time a vehicle crossed, the timbers in the deck would shift, groan & allow one more crossing.  But after several months of work, on June 28th, a large group of volunteers did the final assembly.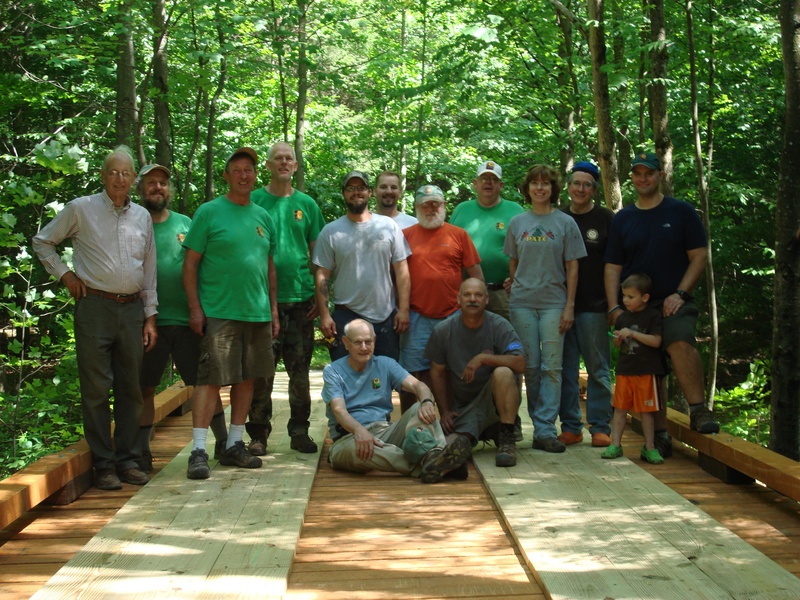 The early stage of the repair effort began when Henry Horn made trips to Blue Ridge Lumber in Fishersville, VA, in both March & April to haul four tons of timbers to the Silberman Trail Center.  These 70 timbers were the generous gift of Tommy Sheets, the owner of  Blue Ridge Lumber.   
There were several work trips from April thru June....1st to spray timbers with preservative, then coat with stain & finally.....the assembly work on June 28th.  A large group of volunteers showed up to remove rotted timbers, replace with new, spread a new bed of gravel, screw in running boards & replace the curbs.  Yup they are good.....most of the bridge deck was replaced before breaking for lunch !!!!
All were well-fed & the new bridge should last a long time.  Check out the Silberman Bridge Slideshow !!

Many thanks to Al Black for his expert construction guidance & Tom Rostek for cabin availability during the bridge work.   
Categories: cabins, trail work, tt