Post courtesy of Jim Tabor, a PATC North Chapter Overseer from Monto Alto, PA
Rocky Mountain Shelter is celebrating its 25th year, built in 1989. Of the shelters on the 32-mile Pennsylvania AT section maintained by PATC North Chapter, it is the only shelter that is not right on the trail. It is downhill 3/10ths of a mile & the spring is 5/10ths of a mile below the shelter. The spring runs good all year long even in the driest part of the summer. Hikers wish it was closer but there is no other nearby source in this trail section. It is also the only shelter where you can order pizza and they will deliver it to the spring, so perhaps that makes up for the 'walk to the spring'. As you can see in the photo, thru-hikers regularly check out this shelter specifically to look for the hand carved spoons left for them by a local Samaritan.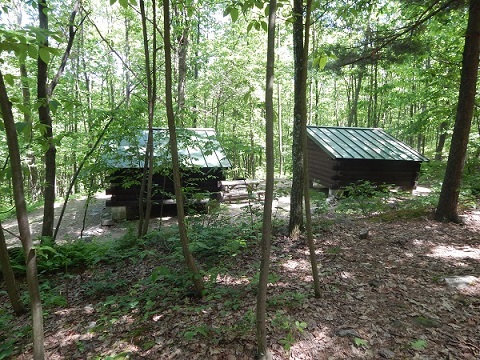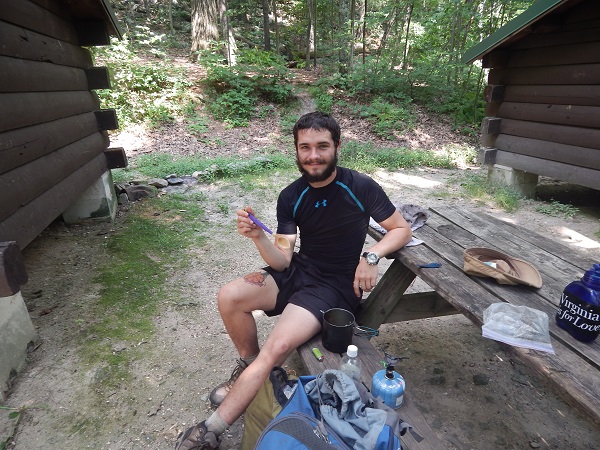 The AT was relocated from the east side of route 233 to the west side of route 233 on the ridge of Rocky Mountain in the 1980s. The old AT location had the Raccoon Run shelter at roughly the same distance between the Quarry Gap and Tumbling Run shelters as the current Rocky Mountain shelters. The Raccoon Run shelter was about fifty feet off of a road and, being too accessible, was abused by party goers. It was torn down when the trail was relocated. As a historical point of trivia, Charlie Irvin and Steve Koeppen tore down the old Racoon Run shelter one cold fall Saturday morning. They had to rouse two campers still asleep in the shelter that morning. They had to chuckle when they saw the hikers had a propane heater with them to keep warm during the night and had erected a plastic sheet across the shelter opening.
The Rocky Mountain, Deer Lick, Tumbling Run, and Tom's Run shelters were all built with the dual shelter design from logs donated by a Pennsylvania log home builder (Mountain Springs Log Homes owned by Howard Seaton, the current North Chapter cabin overseer of Anna Michener Cabin).
Currently plans for improvement include new fire rings and a bear box this fall, with a covered eating area between the shelters suggested.  For more photos of Rocky Mountain Shelter, click here.