Courtesy of Andy Wolfe,  Rocky Knob Overseer from PATC North
Right now the woods in Michaux State forest are offering a great meal along the AT.  "Chicken Mushrooms" boiled and served with Ramen or Cream of Mushroom Soup are fantastic fare. And....no fear...there are no dangerous inedible fungus that look like Chicken of the Woods. They taste "just like chicken".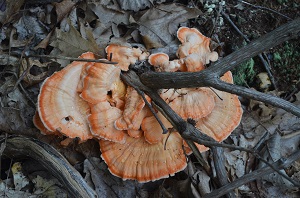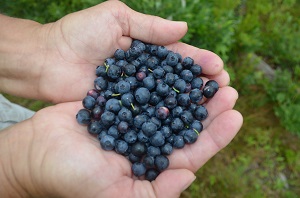 After your trail side supper of fungus and noodles treat yourself to fresh "huckleberries" (wild low bush blueberries). This year has produced a bumper crop. Never seen them more profuse than this year...and the excess rainfall has helped them grow big and plump. The are smaller than commercially grown blueberries but they packed 3 times the flavor and right now are very easy to collect.   The handful in the photo took 2 minutes to collect. Very sweet, pungent, and good for you and your tired muscles.
Bon Apetite' !