Post courtesy of Gary Brunner, overseer of Reese Hollow Shelter for PATC North Chapter
The springs at the shelters along the AT (and in this case, the Tuscarora) shelters are magical places !! 
Since the first day I set eyes on the spring at the Reese Hollow Shelter, after volunteering to be the overseer of the shelter and Reese Hollow Trail back in Dec 2012, I've been smitten with it. I mean, there's just something arresting and compelling about a source of pure, natural water, coming to the surface and being "tamed" via a pipe for human use. Maybe it's a species memory of the vital requirement for water from humankind's earliest beginnings, maybe it's my geekiness and interest in hydrology and geology and physics and tools....
Who knows? But I am irresistibly drawn to springs, and adopting the spring at the Reese Hollow Shelter is a dream come true. I've only been associated with this spring for less than two years, and have not seen how it performs during a serious, prolonged drought, but I kinda think it's reliable and permanent, even in extreme dry conditions. The water is cold, sweet, and refreshing. And somehow, well, comforting is the word that comes to mind.
Soon after I fell in love with the spring, I knew that it needed a dipper. Not only to obviate the need to bend way down to drink from the pipe, but just because a spring just needs a dipper. And not just any dipper; it had to be vintage and used and even a little banged up from its former life, ready to assume thirst-quenching duties for hikers at Reese Hollow Shelter and Trail.
I perused local flea markets and antique shops, but I wound up buying the dipper on eBay. It wasn't expensive--only $12--but when I saw the photo online, I just knew it was the right dipper for Reese Hollow: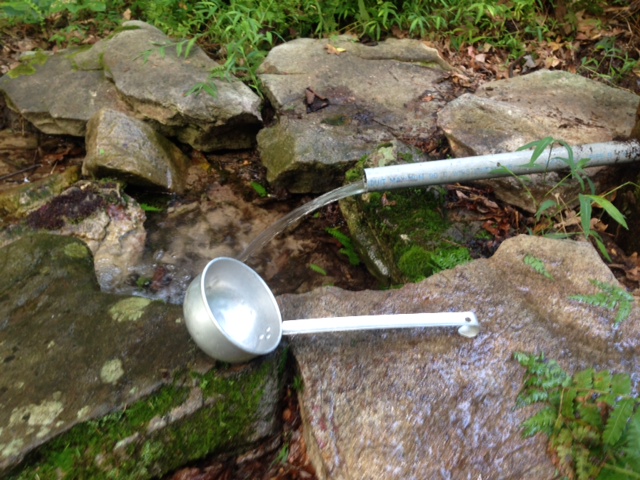 You really must come up to Reese Hollow and take a drink. And use the dipper, of course. It's waiting, hanging on a small post beside the spring.
 NOTE: Reese Hollow is a newer shelter west of Mercersburg, PA, and supports the Tuscarora Trail; Little Cove Cabin in the PATC members rental program is adjacent.