Contributed by Gary Bruner, Reese Hollow Shelter and Trail
As the overseer for the Reese Hollow Shelter and Trail (a feeder to the Tuscarora Trail in southern PA, just east of Mercersburg), whenever I head to the trail I'm all business. I load up my tools the night before, lay out my work clothes, and hit the ground running when I get on site.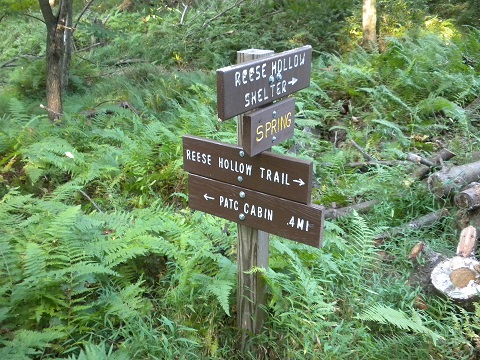 It's usually a nonstop work trip, cramming in the various tasks that need doing along the trails and at the shelter. At the end of the day, I'm typically up against the clock, running behind with work left undone yet not wanting to alarm my loved ones by being late. Finish quickly and rush home. 
It finally dawned on me that I really don't enjoy my trails and shelter, at least in the sense of spending any non-working, quality time there. So a few weeks back, during the week of Labor Day, my wife was away on a trip with her girlfriends, and I decided that I would head up to the Reese Hollow Shelter to camp. Not backpack, but do a base camp at "my" shelter for 3 days and 2 nights. While there I'd work--if I felt like it--on a couple minor, low key tasks, but the overarching purpose of the trip was to simply relax and enjoy the fruits of our PATC labor. 
I took my Kindle, a comfy lawn chair, plenty of hearty but simple food, and the necessary amenities to be easy in the shelter. The weather was perfect, and during my stay there, I did not see a single other human being. It was exactly the kind of decompressing stay that I needed.
So, PATC Overseers: when was the last time that YOU enjoyed your trail or shelter?
Categories: tt, shelters, trail work