Contributed by Pete Brown, PATC North District Manager
Known as a wild corridor, the Tuscarora Trail requires significant maintenance to keep it open for hikers, including dealing with large blowdowns.   Sometime you just make the trail move 'through' the downed tree.......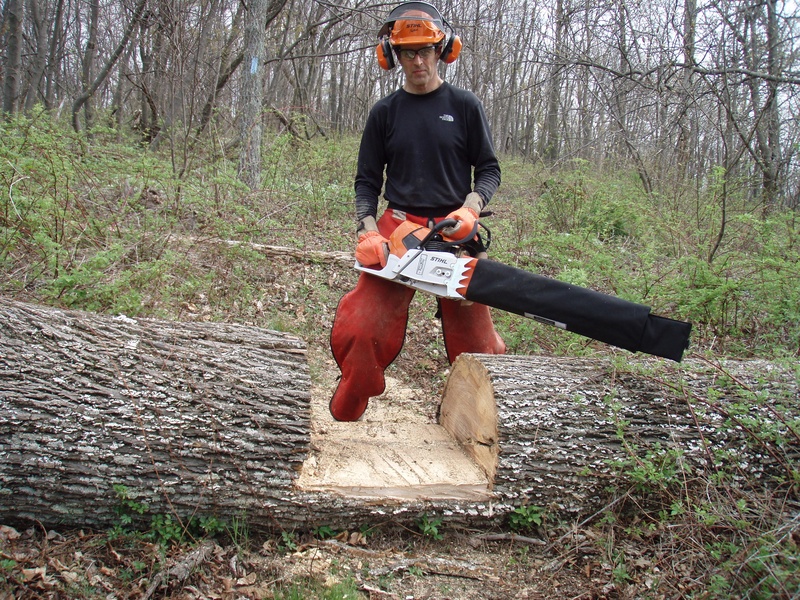 as shown by the skills of Patrick Willson making this bore cut step-through with his new Stihl 661.   Lugging this size equipment up & down the trails is definitely for the rugged & determined....plus this work crew in May got hit by rain & thunderstorms before the day was out.   
PATC teamwork was the perfect description of this crew which included the Overseers, plus members of the Blue & White crew, HQ & Yankee Clippers.  The team broke into 3 subteams working multiple parts of the south two trail sections at the end of Tuscarora Mountain before it becomes road walking to the C&O Canal.trail.     Speaking for this summer's hikers......THANK YOU !!!  
Crew members were: 
Gary Bruner  &  George Alderson  (TT Overseers)
Dick Hostelley
John Hedrick
Jon Rindt
Dan Dueweke
Patrick Willson
Dewey Clark
Wendy Cox
June Ecker,
Peter Muschamp
Kevin Kramer
Rush Williamson
Pete Minderman
Dick Kafka
Ted Rabkin
Julian Schraibman
Categories: tt, trail work