Contributed by Gary Bruner, Overseer for Reese Hollow Trail & Shelter
Now is the time of year when PATC overseers come out of hibernation and start, well, overseeing. That means trail and shelter projects, and when I said ³Spring Work" I was being quite literal.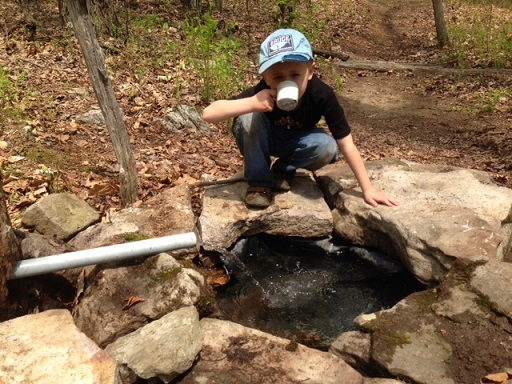 The Reese Hollow Trail is a feeder trail to to the Tuscarora Trail just west of Mercersburg, PA. The recently-completed Reese Hollow Shelter boasts a lovely setting among the ferns, and a reliable spring for water.
The shelter is part of the Little Cove Cabin rental property that PATC owns (I¹m the overseer for the trail and shelter).
The piped spring dumps its water into a splash pool that sometimes does not hold water. When I see that has happened, I just toss a shovelful of sand into the pool and it temporarily plugs up the holes through which the water drains out. That works for a couple months. But having a reliable splash pool under the pipe is a desirable thing, to serve as a repository for food/beverage items that hikers and users of the shelter may wish to keep cool.
So with the help of my 7 year old grandson, Tristan, a couple weeks ago we went up to the shelter to repair/create a better splash pool under the piped spring. The semi-permanent fix for the splash pool was to install a piece of rubber lining left over from my water garden. Then we rebuilt the surrounding stepping stones to make it the spring look completely natural again.
Two disclaimers:
--It should be noted that Tristan absolutely did NOT get wet while working on this project (I also have a bridge in NYC I¹d like to sell you).
--No post about springs is complete without the mandatory lawyerly statement that no backcountry water sources should be presumed safe for drinking without treatment.
Categories: tt, trail work