Provided by Pete Brown, PATC North District Manager & Marion Orlousky, ATC - Mid Atlantic Region
Yes, we can 'Weed 'Em & Reap' .....in fact, many invasive plants/weeds were introduced by European settlers for use as food, medicinal purposes and/or to prevent erosion.    Garlic mustard is one of these.....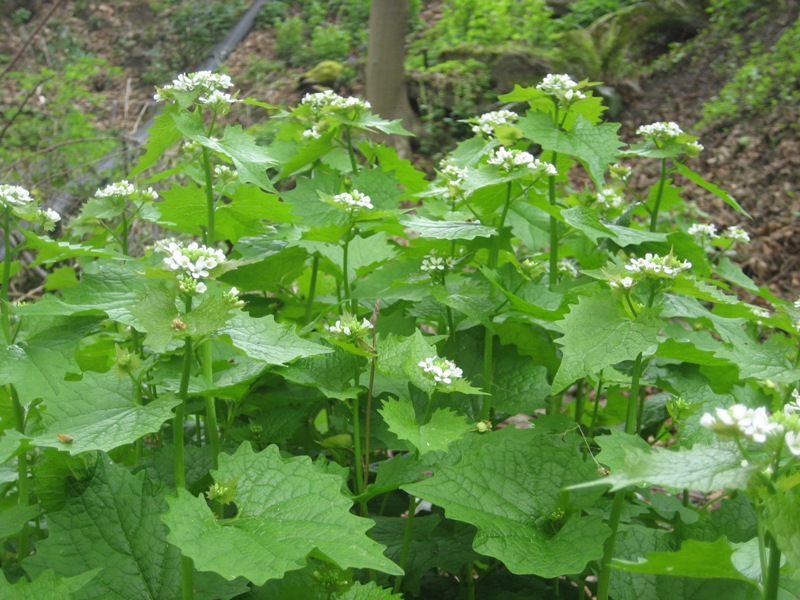 .....1st recorded in Long Island around 1868.   It was used as a vegetable for its high Vitamin A and C content, a garlic-flavored herb in cooking, planted to prevent erosion and used for medicinal purposes, treating gangrene and ulcers.  
Try one of these:
Garlic Mustard Pesto
• 1 cup garlic mustard
• 1/2 cup basil
• 3 cloves garlic
• 2 oz. toasted pinenuts
• 4 oz. olive oil
• juice of 1 lemon
In food processor combine all ingredients except olive oil. Puree and then add olive oil with processor running.
Warm Potato Salad with Wilted Garlic Mustard Greens
• 2 Red bliss potatoes (quartered)
• 1/2 cup Caramelized onions
• 1/4 cup rendered bacon
• 1/2 cup garlic mustard greens
• 3 tbsp red wine vinegar
• Salt and pepper
Preheat oven to 350.  Quarter potatoes, and toss in canola oil. Roast for about 30 minutes. In a saute pan, heat bacon. Add onions and potatoes, and add salt and pepper to taste. Deglaze with vinegar, and toss in garlic mustard. Serve warm.   (serves about 6)
Garlic Mustard Couscous Salad
1/2 tbsp sweet basil leaves
1/2 tbsp garlic and herb
1/2 tbsp parsley flakes
1/4 tbsp garlic powder
1/4 tbsp thyme
1/4 cumin
4 1/2 tbsp minced garlic
2 tbsp garlic juice
2 cups garlic mustard
1 package of roasted garlic and oil couscous
3/4 can tomatoes and juice
1 cup parmesan cheese
Chop garlic mustard, cook couscous, and add all ingredients together in a bowl.  (serves about 6)
Creamy Garlic Mustard Egg Salad
6 hard-boiled eggs, chopped fine
1 T fresh garlic mustard, chopped fine
3/4 cup mayonnaise
1 T prepared mustard
1 tsp. Creole mustard (can use Spicy dark mustard)
1/2 tsp. horseradish
1/2 tsp. Jane's crazy mixed-up salt  (or any seasoned salt)
1/2 tsp. Old Bay seasoning
Mix well and refrigerate for at least 2 hours before serving.
Cheesy Garlic Mustard Quiche
1 cup chopped, steamed garlic mustard leaves
1 pie crust
1 diced onion
1/2 cup diced sharp cheddar cheese
1/2 cup diced muenster cheese
1/2 cup diced Monterey cheese
5 large eggs
1/2 cup 2% milk
1 clove minced garlic
1 tsp dry parsley
1/4 tsp ancho chili pepper
salt and pepper (to taste)
Hungarian sweet paprika
Preheat oven to 350.  Grease pie pan with extra virgin olive oil. Place pie crust in greased pie pan. Mix eggs, cheeses, milk, onion, chili powder, garlic, parsley, salt, and pepper together in bowl. Pour mixture into the pie crust. Top with paprika. Cook for 1 hour at 350 or until firm.
Categories: invasives, trail work